Dora Cake is a Japanese style of pancake that consists of two small pancakes which are filled with azuki bean paste in the center of the pancakes. It is sticky and gooey in texture which is filled with sweet bean paste. It is a favorite food of the Doraemon which is children's best-loved cartoon character.
Dora Cakes is also known as Dorayaki which is a palm-size treat comprising a sweet filling sandwiched between two round pancakes. It is a soft and fluffy pancake that is easy to make. Pancakes are sandwiched together with some chocolate spread in between and kids' favorite snack. 
Dorayaki cake consists of only one layer cake with folded edges so it is square in shape and bean paste could be seen on one side. The name Dora cake is originated from the Japanese word in which dora means "gong" because of the similarity of the shape and its resemblance to a circular metal disk. 
History Of Dora Cake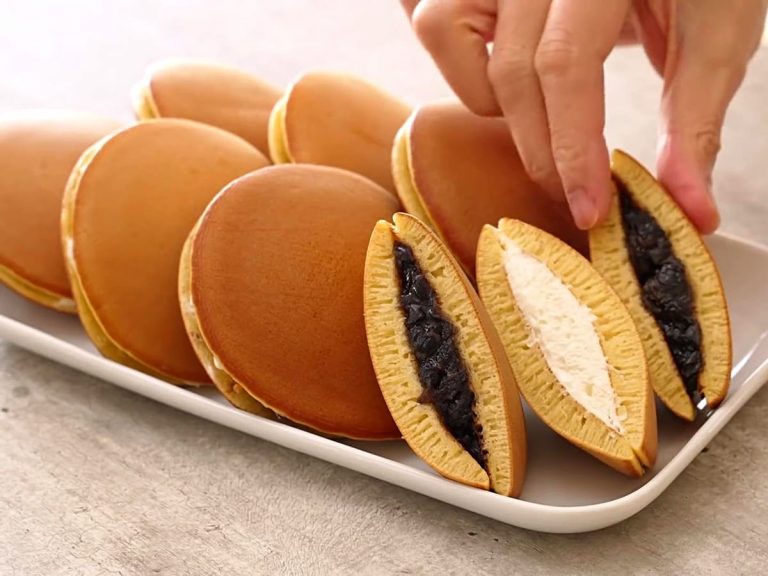 Dora cakes were invented when a samurai named Benkei forgot his gong on the farmer's home where he was hiding and the farmer subsequently used the gong to fry the pancakes, thus named Dorayaki. Although the origin of the dorayaki is believed to be ancient, which is current from the early part of the 20th century. Earlier it was a folded cake like an omelet or pastry rather than a round sandwich, and the dough was much thinner.
While traditional Dora cake is filled with red bean paste but knows it is filled with different fillings which have become popular. It has filling like chocolate cream, sweet potato cream, nutella, and cashew cream which enhances the flavor and gives a nice distinct flavor. 
Dora cake is children's favorite snack as a soft fluffy cake in the layer and filled with lots a chocolate spread which makes it amazing. It is a simple easy recipe which you make at your home. To give a nice taste add honey, a tablespoon of mirin, and a drop of soy sauce to the batter. when it is cooked it is filled with any sweet, spreadable filling. The most popular filling is Nutella which is loved by every age group when paired with these small cakes. 
Dora Cake Recipe 
Ingredients 
For Batter 
Refined flour 1 cup

Powdered sugar ¾ cup

Condensed milk 3 tbsp

Baking powder ½ tsp

Honey 1 tsp

Vanilla essence 1 tsp

Milk ½ cup

Butter 1 tbsp
For Filling
Hazelnut Chocolate Spread 2 tbsp
Method 
In a bowl add refined flour, powdered sugar, condensed milk, baking powder, honey, vanilla essence, milk, butter and mix well and make a batter.

Now heat a non-stick pan and a ladle full of the batter and cook it until golden brown then flips it onto the other side and cook that as well.

Repeat this process with the rest of the batter. And let them cool down a little.

Then take on the cake and spread the hazelnut chocolate spread on it then place another cake on it and press a little.

Serving immediately and enjoy it.